MA'at Harmony Oats | Bath Body Wash Scrub | Roasted Oats | Egyptian Roses | Camel Milk Infused | Lavender Oil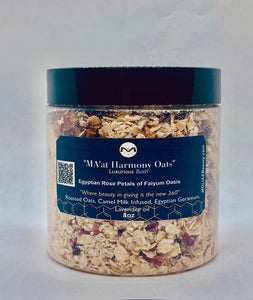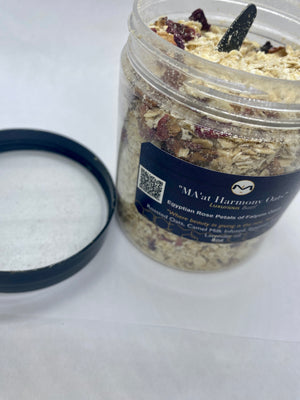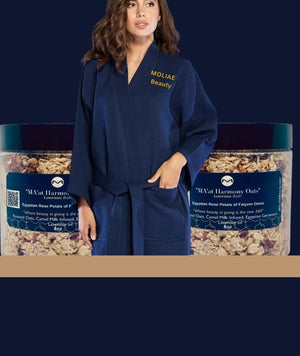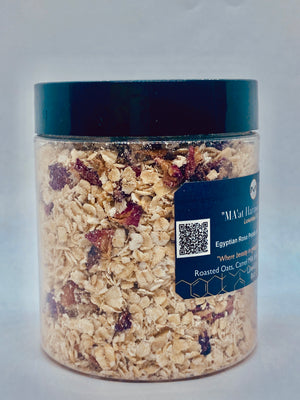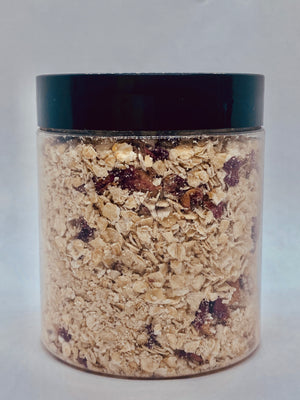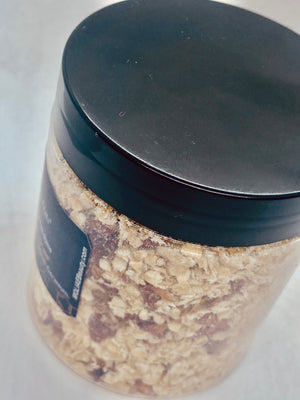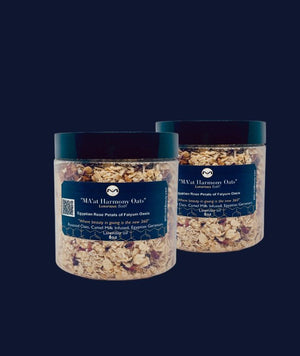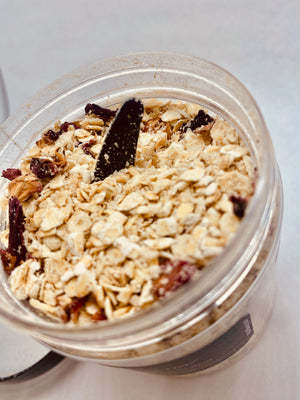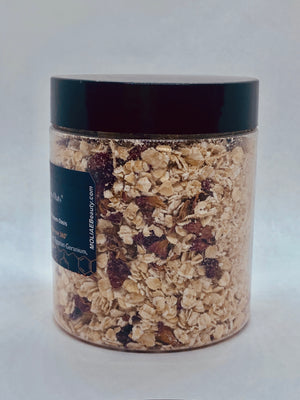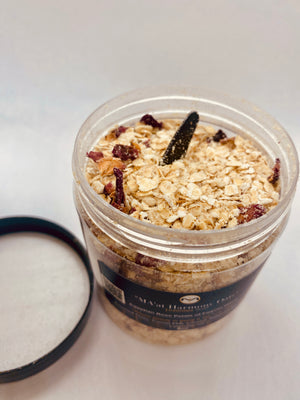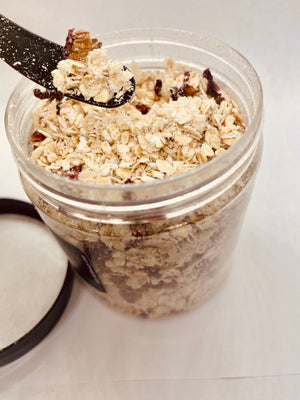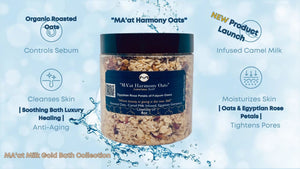 *New Product Launch! hurry and shop before sale ends of the "MA'at Harmony Oats"  is a luxury bath experience of healing properties that supercharges your celluar level with roasted oats inflamatory properties to heal your skin and body while washing away in relaxing warm bath water or used during the shower, for the best stress relaxer and healing effect do as traditional Ancient Egypt Royalty by taking a warm bath and place our "MA'at Harmony Oats and Egyptian Roses in your bath water.  The "MA'at Harmony Oats" is apart of our "MA'at Milk Gold Bath Collection" that features our MB Robe Royal Bath Gift Box Kits" With our organic and natural formula blend of essential oils in the rolled Oats with Egyptian with Egyptian Roses from Fayyim Oasis in Egypt will remove your old skin cells and dirt, revealing softer and smoother skin and less pain with nutrient rich Camel Milk already infused into the roasted oats provides you the spa-at home luxury healing you deserve.
| History fact: in Ancient Egypt MA'at is still known for order and harmony in your life journeys that reinforces of self-care and giving to others, before we can give to others we must be in 'harmony' and nothing does it better than a nice relaxing bath to remove all negativity both internal and external for a less stress mind, body, and thinking. Rolled Oats are known for not only nutrition but for the external use of quickly soothing the muscles, nervous system, and removing toxins hidden outward -right - in - your - bath that  you will quickly feel and see the results. Go the natural way and try our formula blend of Rolled Oats and Egyptian Roses. Our Egyptian Roses are from the Oasis near the Nile River, thus, in Ancient Egypt roses were used medicine practices that repair and heal the body for lasting results as long as upkeep with good food, water, and rest. |
| HOW TO USE:  sprinkle a few of the harmony oats in a warm bath as a little goes a long way due to the hyper-sonic roasted oats and infused of oils as well as the camel milk will start to ion charged your water that automatically start healing you skin deep for an immediately relaxing calm bath soak. You step in and aww, relax and let the 'MA'at Harmony Oats" begin its luxury healing spa oasis with Egyptian Rose Petals for amplification. |  You Deserve This Luxury Healing Rejuvenation ! |
It also helps to nourish the skin and lock in moisture, leaving skin feeling refreshed and glowing. Our scrub is ideal for those with dry or sensitive skin, as it helps to nourish and protect the skin while providing a gentle exfoliating effect. "MA'at Harmony Oats" body wash and scrub is a luxurious spa experience. It combines natural sea salts with skin-softening to create a unique and soothing spa-like experience.
You deserve this pampering and luxury healing with Egyptian Roses as our scrub is made with natural ingredients and essential oils to gently exfoliate and nourish the skin. The extra layer of relaxation as they burst and release their natural skin care ingredients. MOLIAE Beauty roasted oats and Egyptian Roses body wash scrub is suitable for all skin types, and it will leave your skin feeling smooth, soft, and refreshed.
Our body soak and wash as well as a scrub is a luxurious salt scrub that uses rolled oats, Egyptian Rose Petals and essential oils to exfoliate and nourish the skin. This natural scrub is enriched with organic to boost hydration, while organic oils and butter nourish and soften the skin. The infused oats will help to draw out impurities and leave the skin feeling refreshed and invigorated. The Egyptian Rose Petals will add a luxurious feel and provide a gentle massage as you scrub away. This scrub is perfect for anyone who wants to nourish their skin and keep it looking healthy and glowing.
Benefits:
Exfoliation: "MA'at Harmony Oats" with Egyptian Roses is a great way to exfoliate your skin and remove any dead skin cells, leaving your skin feeling soft and smooth.
Hydration: Contains natural oils that help to moisturize and hydrate the skin, making it look and feel younger.
Cleansing: In our "MA'at Harmony Oats" the infused Camel Milk with Rolled Oats purely, naturally organic cleanse your skin by removing dirt, makeup, and other impurities that can build up over time.
Stimulation: Provides needed flow assisting to stimulate circulation and improve blood flow, which can help to reduce signs of fatigue and improve the overall health of the skin.
Relaxation:  Along with our Egyptian Geranium of antioxidants and soothing melody of lavender oil provides a relaxing, spa-like experience and luxury healing with Egyptian Rose Petals from Fayium Oasis near the Nile River in Egypt that can help to reduce stress and tension while at the same time healing and moisturizing the body for needed hydration for soft beautiful skin.
INGREDIENTS: * All ingredients sustainably sourced
Organic Roasted Oats
Egyptian Rose Petals from Fayium Oasis
Camel Milk Infused
Organic Lavender Oil
Organic Vitamin E 
Organic Vitamin C
Pear Seed Oil
Avocado Oil
"This is awesome and I have recommended this to my family and friends. It soothes my skin and it glows healthy since in a long time."

Helen R.
"OMG!! The whole family love this. It is amazing and the scent aroma is like your near the Nile river! It is amazing, I will get more."

The Addis Family
"The collection is awesome the ability to use with cleanser, body oil, and this gives a overall good skin healing effect working together!"

WT.