"Luxi Pearl" 2 in 1 Jade Roller Gua Sha Tools Set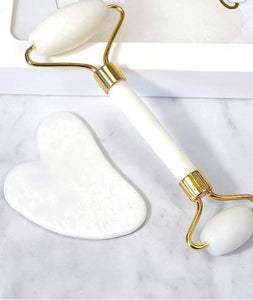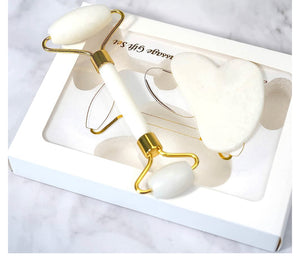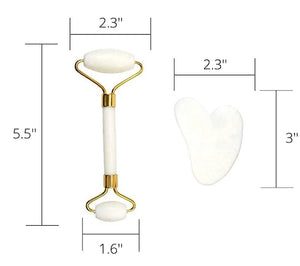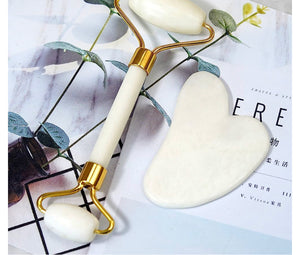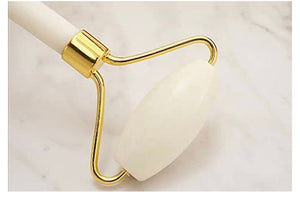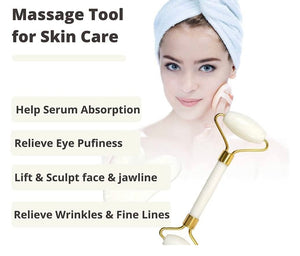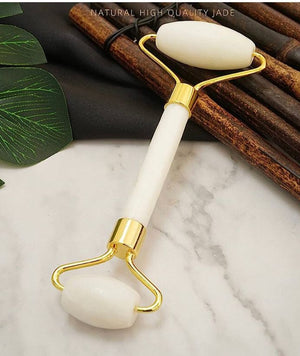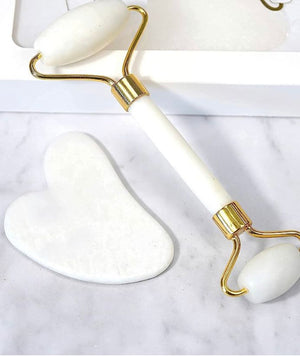 Our NEW Luxi Pearl 2 in 1 Facial Jade Roller is made with genuine White Jade Quartz gemstone to give you a luxurious and refreshing experience. Our skin roller for the face is designed to help improve circulation, reduce puffiness and wrinkles, and diminish dark circles under the eyes. This roller is refreshing and gentle on the skin. It is the perfect complement to any beauty routine. UPGRADE: your order to include one of our royal body oils.
This skin care massage roller is said to help reduce the appearance of wrinkles and fine lines, as well as puffiness and dark circles around the eyes, making it the ultimate anti-aging facial massager. It is perfect for the skin. It will give you a luxurious and refreshing experience.
Our facial skincare roller provides better-looking, rejuvenated skin and a natural glow. Ideal for use with your favorite skincare products, lotions, and serums. It is also the best face roller to use over sheet masks. It can be a great holiday gift for mom, wife, and friends on different festivals, such as Christmas, birthdays, women's days, or Valentine's days.
Benefit:
Facial Roller increases blood circulation and stimulates collagen production.

Tighten and minimize pores, tone facial muscles

Improves absorption and efficacy of topical products

Increases circulation

Promotes lymphatic drainage

Reduces puffiness under the eyes and dark circles
"This is awesome and I have recommended this to my family and friends. It soothes my skin and it glows healthy since in a long time."

Helen R.
"OMG!! The whole family love this. It is amazing and the scent aroma is like your near the Nile river! It is amazing, I will get more."

The Addis Family
"The collection is awesome the ability to use with cleanser, body oil, and this gives a overall good skin healing effect working together!"

WT.