Luminosity Aloe | Body Oil | Sea Moss, Aloe Vera, Emeralds Crystals, Selenite, Black Seed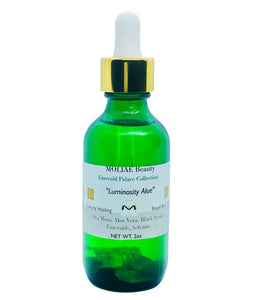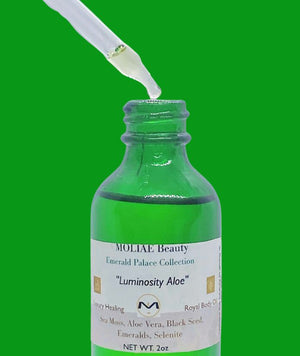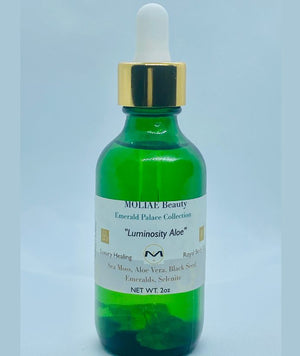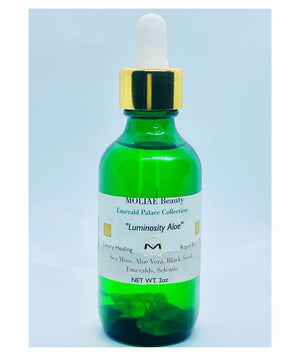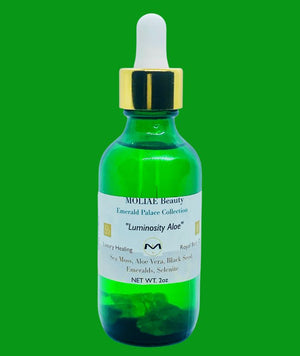 Launch SALE Thanksgiving Day 11/23 with extra 40% off discount code; HAPPYMB40! If you are looking for a deeper healing Body Oil and even a New Face Serum | "Luminosity Aloe" introducing our long awaited The Emerald Palace Collection for a deeper healing of the power of Aloe Vera within our formula been of luxury healing essential oils for the face and body that will soothe and moisturize the skin.  Depending on your skin type, you may want to look for a serum and our Luminosity Aloe can deliver that is formulated to address your skin type's specific needs. We infused Emerald Crystals that provides nutrient cleansing of your skin for impurities that prior was hard to really clean out your pours now can with our formula blend.  Selenite crystals are infused in our "Luminosity Aloe" body oil of Emerald Palace Collection that has amplified results to plumb up skin that developed dullness and sullen type of appearance. 
Top 3 Benefits To Get Your Bottle Today:
1) Moisturizer | Deeply in the skin for long-lasting coverage
2) Amplication | Emerging our organic natural ingredients for clearer skin, healthy look
3) Anit-inflammatory | Heals deeply for continues problem skin areas that elevating your skin
For instance, if you have oily skin, you may want to look for a serum that is designed to help control excess oil and improve the texture of your skin. If you have dry skin, you may want to look for a serum that is rich in moisturizing ingredients such as Sea Moss of the ocean moisturizing and healing effect along with Aloe Vera supercharges the overall skin issues for a smoother and clear skin. Additionally, if you have sensitive skin, you may want to opt for a product that does not contain any harsh chemicals or fragrances.
Luminosity Aloe is nutrient enriched Body Oil and Face Serum is a skincare product that is applied to the body and face to help improve the appearance of the skin and reduce the signs of aging. Body oils help with skin blemishes, dryness and other skin issues on arms, legs, feet, back etc., as well as can be used as Face serums that are typically made of active ingredients like antioxidants, peptides, and hyaluronic acid, which help to nourish, hydrate, and protect the skin. Body oils helps when you finished your shower or bath and that moisturizing effect all over as well as with our Luminosity Aloe can be used as a face serum that is formulated with organic natural ingredients that can help reduce the appearance of wrinkles, dark spots, and other signs of aging. Face serums should be applied after cleansing and before moisturizing for the best results.
Emerald Palace Collection of Luminosity Aloe Body Oil Benefits
✅ anti-inflammatory properties
✅ cleansing skin pores
✅ moisturizing deeply reduction in ashiness
✅ nutrient rich of Vitamin E
✅ assist to heal acne, reduce blemishes,
✅ minimize fine lines, scars, and dark spots
✅ cooling effect and helps minimize eczema, redness, and rosacea
...and so much more benefits with such natural and organic ingredients included. 
By adding in a super-boost oil such as the MOLIAE Emerald Palace Serum, your skincare regime will supercharge to the results you desire.  The "Emerald Palace Serum" Serum will you get a blend of profound natural Vitamin E and anti-inflammatory effects to assist in the care of the skin change can happen for the better.
"This is awesome and I have recommended this to my family and friends. It soothes my skin and it glows healthy since in a long time."

Helen R.
"OMG!! The whole family love this. It is amazing and the scent aroma is like your near the Nile river! It is amazing, I will get more."

The Addis Family
"The collection is awesome the ability to use with cleanser, body oil, and this gives a overall good skin healing effect working together!"

WT.