King In Me | Royal Beard Oil | Argan Beard Oil | Sandalwood | Ylang-Ylang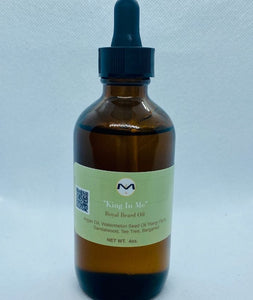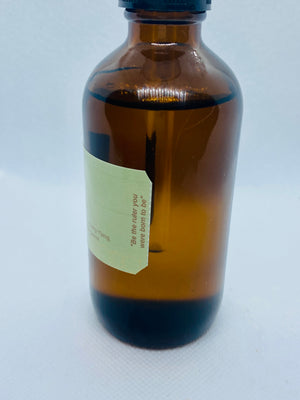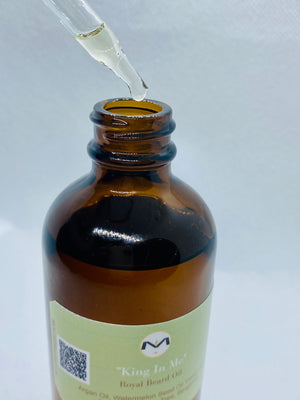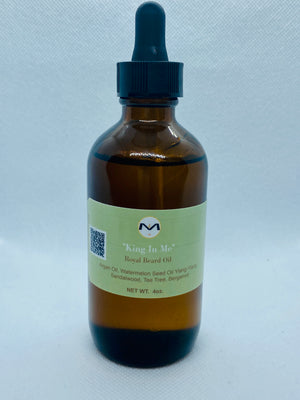 The Royal Beard Oil is a Moroccan Argan Oil with our signature formula blend of oils for a premium quality beard oil made with the finest natural ingredients. This beard oil is designed to soften and nourish facial hair, while also providing a light hold to help style and shape the beard. It is enriched with Argan oil, which is known for its nourishing and conditioning properties as well as hair growth. Other natural oils, Sandalwood Oil and Ylang-Ylang Oil also provide nourishment while helping to reduce irritation and itchiness. This oil is also scented with a mild and pleasant blend of essential oils. It is perfect for anyone looking to take their beard game to the next level.
The King In Me Beard Oil is a high-quality beard oil that is formulated to help keep your beard looking and feeling healthy. It is made with organic Argan oil, which helps to nourish and soften the hair and skin. The oil also helps to reduce inflammation and itchiness, and it helps to promote healthy beard growth. It is also enriched with Vitamin E, which helps to protect the hair from environmental damage. This Watermelon Seed Oil also helps to reduce beardruff and keep your beard looking great.
Cooling & Healing Effect Benefits :
✅ increase healthy beard hair for easier grooming comb thru
✅ moisturizing deeply to reduce dry, damaged skin
✅ enriched anti-oxidants and luxurious beard oil, beard wash, and face wash
✅ hydrates and heals with anti-inflammatory properties of tea tree
✅ healing properties with Watermelon Seed Oil infused to amplify
✅ nutrient-rich of Vitamin E added
You remember and so do we! Get this today.
Our Formula Blend Ingredients:
Moroccan Argan Oil
Sandalwood Essential Oil
Ylang-Ylang Essential Oil
Organic Watermelon Seed Oil
Egyptian Geranium Essential Oil
Organic Avocado Oil
Tea Tree Essential Oil
Organic Castor Oil
Bergamot Essential Oil
Hemp Seed Oil
How to apply and best times to use:
You should apply during the morning when you want to groom your beard or grow your beard as well as before you at night of a even light coat to moisturized the skin. Once applied you may proceed to shaving a small area to get a feel of the cream that is amplifying your skin - hairs before you begin to shaving towards an even clean shave. Our formula blend Royal Shaving Cream is designed for  for deep cleansing, especially, if you are trying to keep a well kept non-beard / face hair under control then you have to have superb clear blemish free skin - it is a must - therefore, our formula blend delivers that deep nurturing healing, so that your natural skin shines thru naturally as the King you are to be. 
| | |
| --- | --- |
| | The Royal beard oil have unique blends of essential oils that can keep your beard hydrated and fresh for a long time. |
| | Your beard should have a beautiful natural shine to give your face an attractive look. And that's what you get with our perfect beard oil. |
| | The pleasant scent of the beard oil and the fantastic quality of essential oils to make your beard soft and easy to style will give you a pleasurable and enticing experience. |
Benefits:
The natural oils and vitamins in King In Me Royal Beard Oil helps you to repair and protect the delicate hair roots for healthy growth, as a cleanser as well.

Royal Beard oil has anti-oxidants and a moisturizer to reduce the appearance of dryness, brittle, instead, a more fuller luxurious beard.


King In Me Royal Beard improves the texture of your beard and provides a smoother and a softer feel.

Our synergy blend of the King In Me Royal Beard Oil helps to enhance the color leaving it looking clean and more vibrant.
Already in love with them? Order now!
"This is awesome and I have recommended this to my family and friends. It soothes my skin and it glows healthy since in a long time."

Helen R.
"OMG!! The whole family love this. It is amazing and the scent aroma is like your near the Nile river! It is amazing, I will get more."

The Addis Family
"The collection is awesome the ability to use with cleanser, body oil, and this gives a overall good skin healing effect working together!"

WT.
Best beard oil and natural superior than I used
It's real smooth with a nice blend that I used it as a beard wash too and styling making it very manageable. Not greasy at all and this blend has a very nice scent. Highly recommend.
Best beard oil and natural superior than I used
It's real smooth with a nice blend that I used it as a beard wash too and styling making it very manageable. Not greasy at all and this blend has a very nice scent. Highly recommend.