Foot Oil Lotion | "Horizon Aspu" | Coconut Oil | Pomegranate Seed | Egyptian Geranium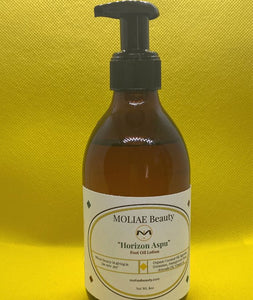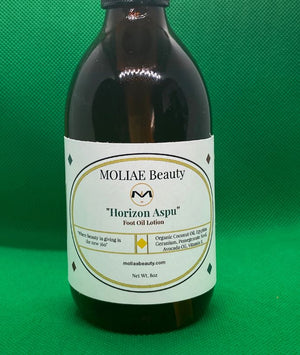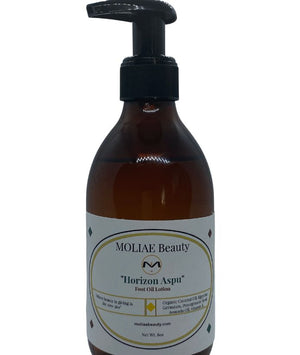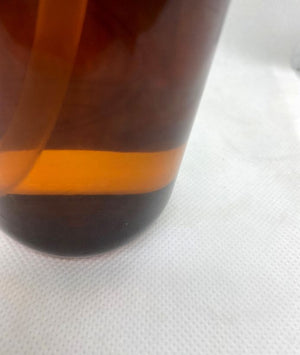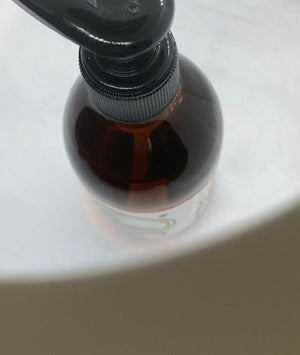 The foot oil lotion feels like essential oils blended with our MOLIAE signature style, but utilized specifically for the care of the feet. Our MOLIAE foot oil lotion formula blend is an easy and fast way to nurture your feet from daily hard repetitive walking or standing that goes deep in the pores for a refreshed appearance. It keeps your feet healthy, smooth, and plump wherever you go. T
Our "Horizon Arise" foot oil lotion of organic, vegan, and nutrient-rich oils as well as essential oil of natural ingredients for you and your family. You can even use this on your hands, elbows, and arms. This Essential oils provide quick relief and fight foot odor, and tea tree extract heals your dry feet holistically.
HOW TO USE:
After a nice bath or shower, this is the bottle you grab to assist in moisturizing and healing your feet and toes, next you put on some socks and get ready to rest - wala, in the morning you will see and feel the difference!
Benefit:
✅  Heal your feet' aches and skin from prior exposure to the environment or wearing closed-end shoes.
✅  Apply deep nutrient-rich elements to your feet' skin to look smoother, healthier, younger, and glow
✅  Soften rough patches on your feet' skin when using Horizon Arise daily
✅  Coconut and our blend of Pomegranate Seed Oil as the star makers with Egyptian Geranium sealing the deal for primed antioxidants, antibacterial, and anti-inflammatory to assist with healing spots, and eczema that will enhance your face skin. 
✅  Reduces dark spots and hyper-pigmentation for an even tone appearance
Ingredients:
Organic Coconut Oil
Organic Pomegranate Seed
Organic Egyptian Geranium
Organic Avocado Oil
Vitamin E
"This is awesome and I have recommended this to my family and friends. It soothes my skin and it glows healthy since in a long time."

Helen R.
"OMG!! The whole family love this. It is amazing and the scent aroma is like your near the Nile river! It is amazing, I will get more."

The Addis Family
"The collection is awesome the ability to use with cleanser, body oil, and this gives a overall good skin healing effect working together!"

WT.