✨ Anta Nekht River | Tooth Oil | Clove | Himalayan Salt | Tea Tree | Mint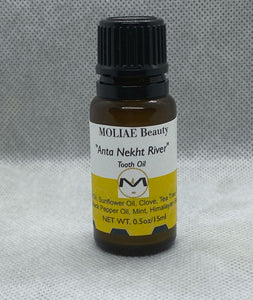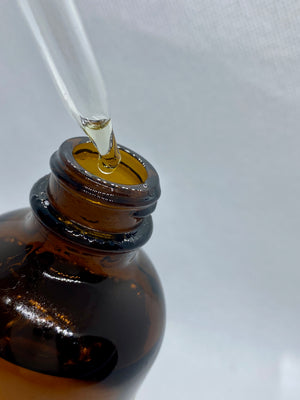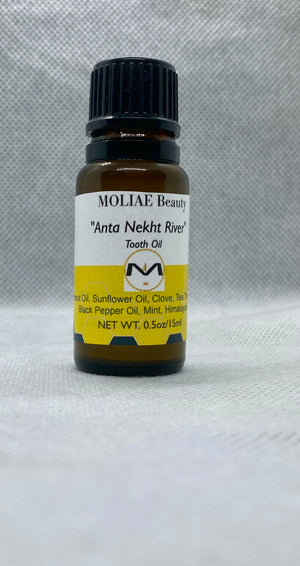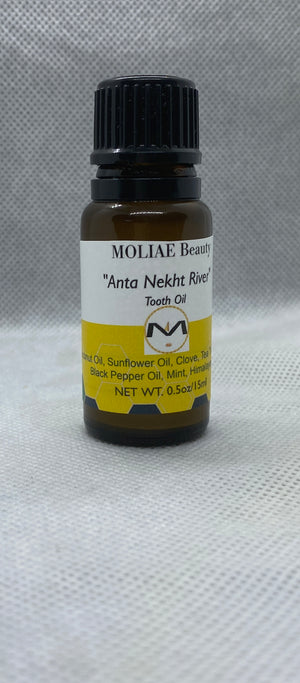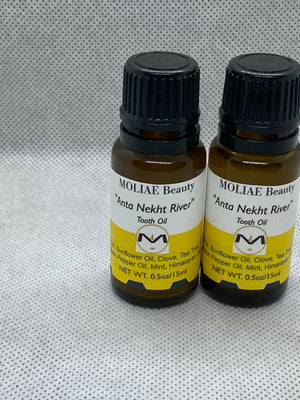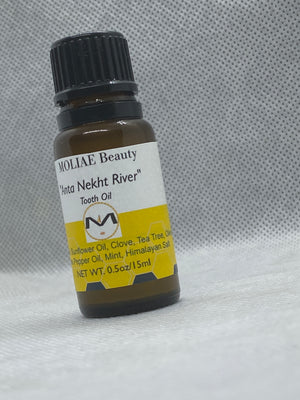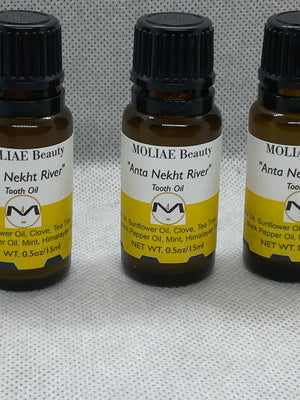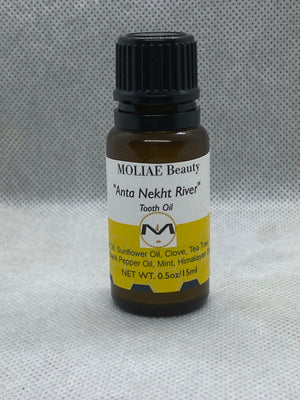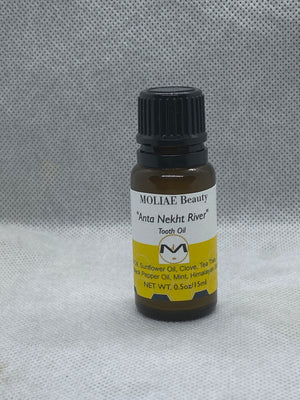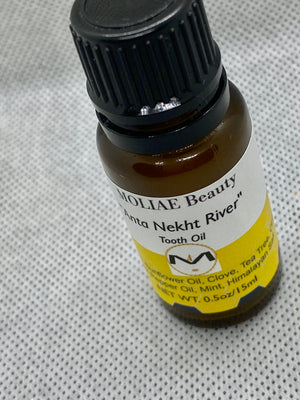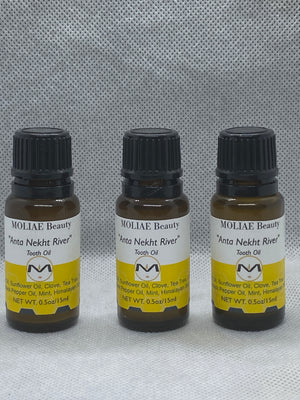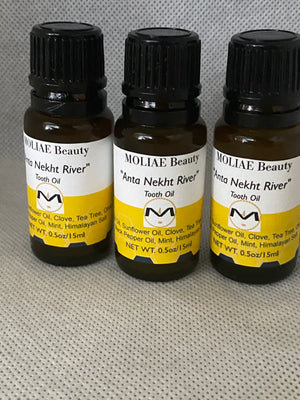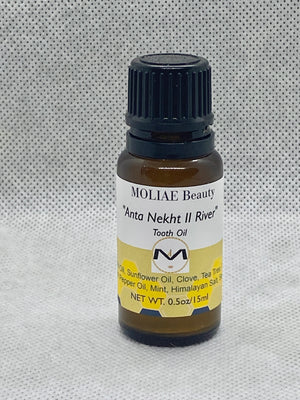 New product release.
If you are looking for a tooth oil pulling to clean your teeth to have the best and healthy gums, good breathe, and strong teeth then try our new Tooth Oil "Anta Nekht River" that provides deep cleaning tooth oil cleansing and tooth oil pulling as an ancient tradition to keep healthy gums that leads to healthy teeth. We still highly encourage to visit your dentist hygienist to check your oral status and ongoing maintenance as it is very important for overall health. While not at the dentist, home care is especially important, tooth oil pulling cleansing teeth, thus, you are able to choose the right remedy matters for you and your family oral health goals.
When stains are on the teeth, a remedy for removing the stains for healthy white teeth is in order by using ingredients to naturally assist in removing of the stains. Home remedy is important for that steady consistent results. During a busing day, it is hard to focus on our teeth that provides the first impression when we aim to show our mood of happiness, however, there are stains there that either wont go away or returns back when you least expect or just don't know what to do. Well, in ancients and now modern day times the known remedy is by using good essential oils on the teeth that within its elements pulls the bacteria and stains related to that to reveal the pretty whiteness of teeth. 
In our formula blend, we utilize the natural organic synergy of essential oils and herbs blend that cleans, heal, anti-inflammatory, anti-oxidants, and vitamins enriched for synergy of positive results. Consistency is important in using any type of teeth cleansing remedy as well as a good mouthwash, thus, in ancient times the usage of teeth oil pulling was very popular an offer a remedy to use before going to the family dentist or physician for checkups. While at home the ongoing cleaning is important, so that later back at the checkup time you have prepared for continuing the care of your teeth. Over the years as lifestyles changes, the more need to invest in your teeth becomes very important as more attention is needed and required. With different foods and /or drinks, the needed for a good cleaning remedy is vital for the health and care as well as appearance for your teeth. You can do research to compare which remedy product works for you and consult your dentist and/ or physician. Bottom-line, there must be some type of measure remedy to clean, care, heal, and fresh breathe that brings forth an overall wonderful smile you are proud of to showcase around town to anyone. 
You will drop a few on your toothbrush and normally brush your teeth in the morning and afternoon. You can also use this tooth oil during the day for breathe enhancer. And, if you have dry mouth, you may want to look for a tooth oil. Daily cleaning either in the morning or afternoon offers a consistent way to wash away bacteria that formulates after eating or drinking that needs the remedy of a strong pull. Back in ancient times, oil pulling was the thing to use as it was convenient and effective to pull away that bacteria without any drawbacks, such as, essential oil Clove known for its healing properties to ease away teeth pain and provides a barrier for ongoing bacteria leading to unhealthy levels in the mouth or tongue as well as well as gums. Clove is super powered to withstand long hours before the next brushing that helps with aim for continuous delivery the protect against the many times the person eats or drinks that can cause an excessive bacteria on the teeth. 


Benefits:
Cleans teeth by oil pulling, while healing the gums and tooth of any bacteria or decay as well reduces plaque buildup. Ancient tradition of using oils offers a way to extract the bacteria from the teeth, thus, healing the gums and therefore the teeth for a strong barrier foundation that delivers the results you desired while home between your dentist visits. In choosing your home remedy, the usage method of tooth oil pulling is a long tradition of helping to remove the bacteria and producing more healthy teeth on recover or sustainability of beautify white teeth for the long-term and a happier person and family. 

Ingredients:
Organic Sunflower Oil 
Organic Coconut Oil 
Organic Clove Essential Oil
Organic Min Essential Oil 
Himalayan Sea Salt
Organic Tea Tree
"This is awesome and I have recommended this to my family and friends. It soothes my skin and it glows healthy since in a long time."

Helen R.
"OMG!! The whole family love this. It is amazing and the scent aroma is like your near the Nile river! It is amazing, I will get more."

The Addis Family
"The collection is awesome the ability to use with cleanser, body oil, and this gives a overall good skin healing effect working together!"

WT.