Aloe PyraSand | Bath Body Soak Scrub | Emerald Sugar | Argan Oil | Egyptian Roses | Pomegranate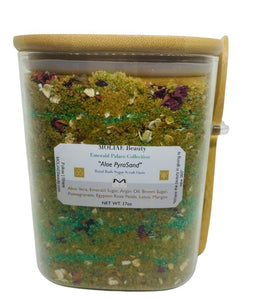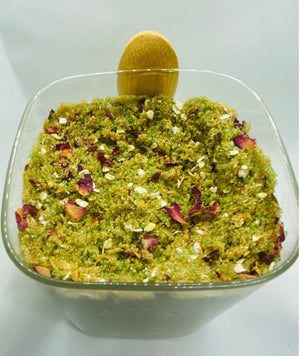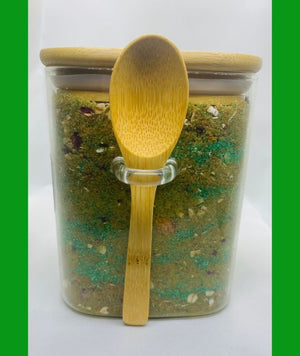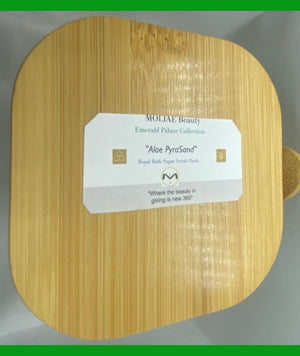 Launch SALE Thanksgiving Day 11/23 with extra 40% off discount code; Of our Emerald Palace Collection that emerges into a luxury bath soak scrub, introducing our "Aloe PyraSand" 17 oz that will last for months and in a beautiful glass container with free wooden spoon adding a lovely addition on your bathroom counter, that our bath scrub has Aloe Vera and organic essential oils with our formula blend of Emerald Sugar for s a luxury healing way with Egyptian Roses from Fayyim Oasis in Egypt that removes old skin cells and dirt, revealing softer and smoother skin and less pain with Epsom Salt. It also helps to nourish the skin and lock in moisture, leaving skin feeling refreshed and glowing. Our scrub is ideal for those with dry or sensitive skin, as it helps to nourish and protect the skin while providing a gentle exfoliating effect is a luxurious spa experience. It combines natural skin-softening to create a unique and soothing spa-like experience.
You deserve this pampering and luxury healing with Egyptian Roses as our scrub is made with natural ingredients and essential oils to gently exfoliate and nourish the skin. The extra layer of relaxation as they burst and release their natural skin care ingredients. The Scrub is suitable for all skin types, and it will leave your skin feeling smooth, soft, and refreshed.
Our Scrub is a luxurious salt scrub that uses essential oils to exfoliate and nourish the skin. This natural scrub is enriched with hydration, while organic oils that nourish and soften the skin. The sugar scrub will help to draw out impurities and leave the skin feeling refreshed and invigorated. The luxurious feel and provide a gentle massage as you scrub away. This bath soak scrub is perfect for anyone who wants to nourish their skin and keep it looking healthy and glowing.
Benefits:
Exfoliation:

 

scrub with Egyptian Roses is a great way to exfoliate your skin and remove old skin cells, leaving your skin feeling soft and smooth.
Hydration:

 C

ontains natural oils that help to moisturize and hydrate the skin, making it look and feel younger.
Cleansing:

 Our soak scrub 

cleanse the skin by removing dirt, makeup, and other impurities that can build up over time.
Stimulation:

 H

elps to stimulate circulation and improve blood flow, which can help to reduce signs of fatigue and improve the overall health of the skin.
Relaxation:

 with pomegranate and lotus oil 

provide a relaxing, spa-like experience and luxury healing with Egyptian Rose Petals from Fayium Oasis near the Nile River in Egypt that can help to reduce stress and tension.
INGREDIENTS: * All ingredients sustainably sourced
Aloe Vera
Egyptian Roses from Fayium Oasis
Pomegranate
Argan Oil 
Emerald Green Sugar
Brown Sugar
Lotus 
Mangos
"This is awesome and I have recommended this to my family and friends. It soothes my skin and it glows healthy since in a long time."

Helen R.
"OMG!! The whole family love this. It is amazing and the scent aroma is like your near the Nile river! It is amazing, I will get more."

The Addis Family
"The collection is awesome the ability to use with cleanser, body oil, and this gives a overall good skin healing effect working together!"

WT.